Exhibition: Stefanie Minzenmay – Protected Privacy
WINNER OF FotoRoomOPEN
22.9.2020
Open doors with artist: 3-6pm
Opening: 7 pm (by reservation: info@foto-forum.it)
Exhibition: 23.9. –  22.10.2020
Stefanie Minzenmay – Protected Privacy and Selfie in Arles
Under its SELFIE hashtag, Instagram currently offers 427 million hits. Number One in the TOP category is a young woman, running a hand through her blonde hair. She is dressed in turquoise underwear. Her eyes are open wide, her lips only slightly parted. It's not quite clear who she is looking at. Probably at herself. But it's hard to shake off the impression that she's simply staring into space.
Things look none too different in the CURRENT section. Except that young woman Number One, this time, is wearing a green top and keeping her mouth shut. After barely a glimpse, however, her image is eclipsed, pushed by the never-ending flood of images out of the picture then into the infinite depths of electronic storage facilities, from where it will never completely vanish—social networks are forever, after all—although it is unlikely to ever resurface.
Her deep sadness is due not least to this, this moment of melancholy inherent to every portrait which only ever speaks to us of the past and yet is itself out of date, finished, and done with—possibly even invalid— already at the moment it is taken. The notion that photographs reveal the future death masks of the living is nothing new. Could it be that behind every urge to take a selfie lies the hope of outwitting death?
Could that have been what was going on when the young woman now on the wall in Arles looked into the lens of her cell phone and, blind to everything else, took a snapshot of herself around noon on a somewhat overcast day, when the sun was high in the sky and, presumably, cast an even light on her face?
Stefanie Minzenmay happened to be in a street café then, watching the scene at just a few steps remove; and she too reached for her camera. The wall, the column, and the roof in her series conjure a stage set, the section of parasol captured in the foreground a stage curtain that has just been raised—or is it about to fall? Either way, the young woman becomes an actress in a play of her own, the title of which should be not so much "Who am I?" as "Here I am!" We can see her only from behind, her long hair tousled by the wind, at times, or bunched together in her hand. Once, we see she is wearing sunglasses. That is virtually all we learn. And yet to know the outcome we don't even need see the images she is taking now, with the camera at the end of her outstretched arm. They are already on Instagram, 427 million times over. But for what purpose?
Only rarely do we imagine that Internet selfies are meant to solve questions of personal identity, that someone has set out to mine their own likeness for clues. Selfies are not so much self-portraits as rather the coincidence of narcissism and exhibitionism, which used to be treated in clinical psychology as related but separate drives. In any controlled performance for the camera, any flaunted coquetry, lies a yearning for beauty and perfection, and in our hope for likes lies our quest for recognition, perhaps even an addiction to it. That online likes have become a currency is not without its repercussions. A whole generation seems to be submitting itself with enthusiasm to the pressure of being perfect. And the fact that there are Instagram hashtags for bodypositivity, selflove, and diversity only serves to confirm the logic of a system primed to constantly promote and outstrip superlatives, not least thanks to its optimization options based on dozens of filters, which give everyone the feeling they are a star—or at the least have what it takes to become one.
A billion people use Instagram. A hundred million images are uploaded to the platform every day. And even if selfies make up only the tiniest fraction of these, even if very few people use their camera more as a mirror than as an eye, when taking photos, staged self-portraits—or posing, in a word—have become part and parcel of so many young people's lives as to have them go down in history not only as Post-millennials and Generation Z but also as The Selfie Generation.
Selfies mean business. Big business, since influencers make a fortune. But business on a small scale, too, for follows are bartered for follows, and likes for likes. In fact, it's the photo hype that allows Instagram to style itself as the consummate, never-ending virtual party. But this same hype is what leads some people to lose their grip on reality and forget that social networks are a public platform. "Just imagine what it would be like to have photos of you hanging on the lamppost outside our front door," Stefanie Minzenmay said to her children. "What should friends, neighbors, and passers-by be allowed to know about you?" she asked. "Which information is it ok to make public?" These questions led to the series "Protected Privacy—Protect Yourself!" in which children are portrayed hiding in plain sight, as it were. Bizarre hairstyles conceal their faces; nothing is revealed but the length and color of the hair. Are these boys or girls? Young or old? Seen from the front or the rear? With some of the photos we are not even inclined to guess. And it is this which makes the images a perfect illustration of the question that most intensively preoccupies children around that age: What does it mean to say "I"?
Refusing representations of self is therefore clearly not the concept here. Rather, the series explores how we may put ourselves on show without handing ourselves over on a plate, how we may refrain from doing what others consider normal, how we may not give in to peer pressure, nor chase after that long since globalized ideal of beauty stalking the Internet, which so many emulate in an apparent compulsion to fit in, almost as if our belief in individuality as the highest good has been swept aside by role play as a new norm that culminates in stereotypes and cliché-d faces. Not that debates about the standardized face are anything new; they can be traced back to the earliest days of photography. But in this particular case it was, of all things, a concern with the most modern media and social media networks—the most widespread of which, namely Facebook, has the word face in its name—which led to the visual resolution of a matter dating back to prehistoric times and the origins of art: the acts of veiling and masking.
Because, in the natural light and neutral, bright ambiance of her bare studio, Stefanie Minzenmay makes of her models living sculptures who not only hide behind their hair but transform themselves, too. In refusing to meet our gaze and eschewing facial expression completely—dual fundaments of our human coexistence—they seemingly retreat to a distant level, so hindering any form of communication. Where there is no face, there is no one to call on. Above all, there is no recognition. That's the uncanny thing about these photographs: they draw the gaze yet do not return it; the very act of veiling conjures drama; visibility itself masks existence.
Stefanie Minzenmay's photographs show masks without features, without any legible meaning; masks that conceal not only the head but, in their opacity, also the person within. Yet since we are dealing here with children—and hence, with faces in the process of becoming, and in which life has not yet etched its traces—children who have not yet acquired a practiced self-expression or the talent to put on a deceptive face, we never feel the urge to tear off their masks; on the contrary.
We sense that these masks will soon fall away all by themselves. It's no linguistic coincidence that the term larva is used in classical drama for mask whereas in zoology it denotes the intermediate stage in an insect's metamorphosis from egg to full adult form. After all, isn't there a hint of a face gleaming behind the combed hair in some of Stefanie Minzenmay's photographs, almost as if a new living creature is about to emerge or, better still, unmask itself?
Freddy Langer, August 2020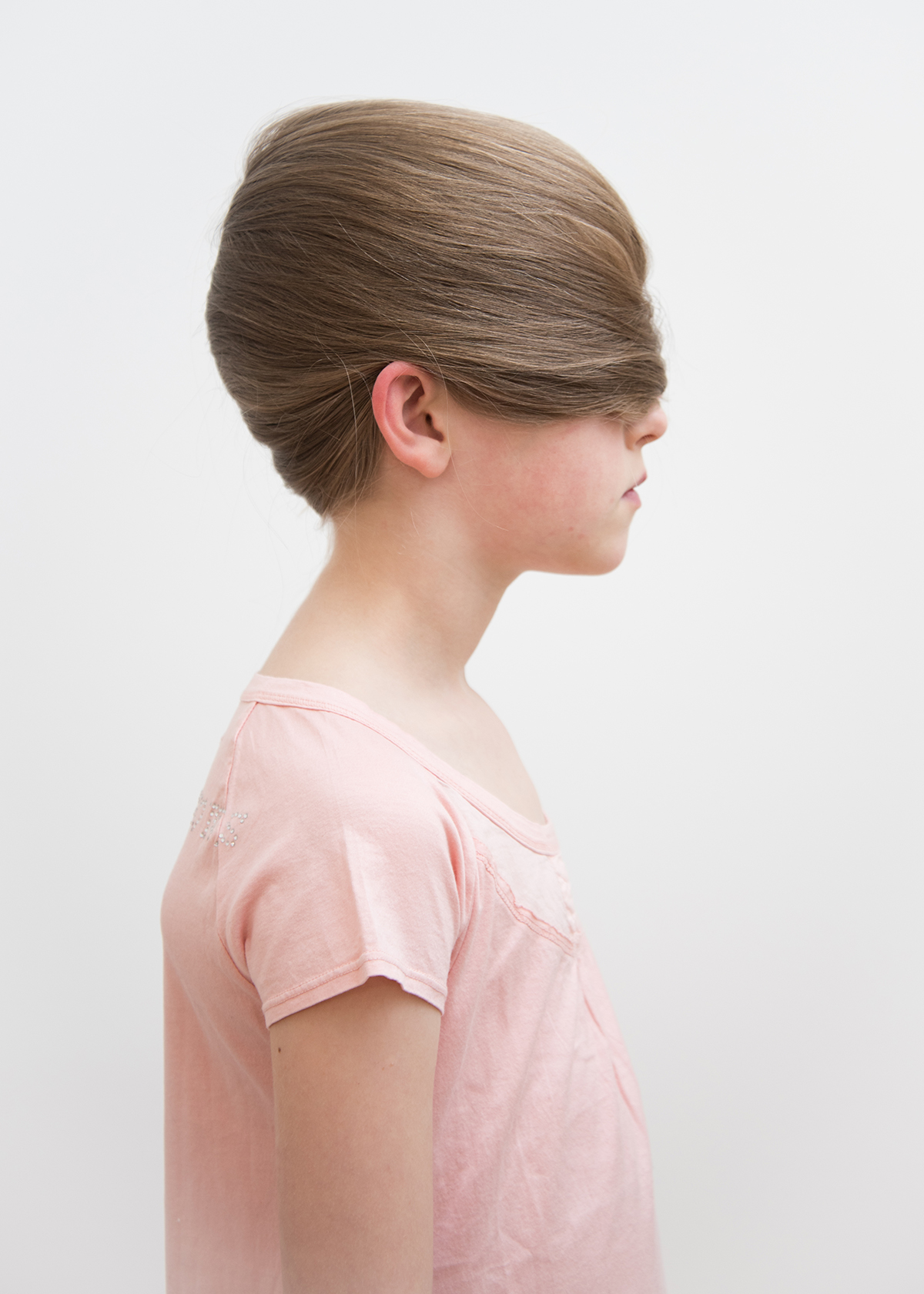 Stefanie Minzenmay – "Protected Privacy", EXHIBITION AT FOTO FORUM, BOLZANO/BOZEN (ITALY) 23.9. – 22.10.2020